TeamWord, PBE & PBA
From PBAWiki
Editor's note: This site is available to any Bible Bowl or 
Pathfinder Bible Achievement type of competition, whether 
the final site is in Silver Spring, Berrien Springs or anywhere else.

Welcome to the joint wiki for TeamWord, PBE, PBA and other Bible Bowl-type events.
New!! TeamWord pages
TeamWord materials for 2013/14 can be found on the Triadelphia SDA Church website.
Note: As of mid-August 2012 I have locked down the ability to create an account.
Also, you must have an account and be signed-in before you can create or edit pages.
These spam-fighting measures have become necessary in the last few months.

If you need an account, or if you have any kind of difficulty using your existing
account, please send a note to accounts at teamword dot org and I'll 
do my best to help you.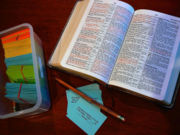 The
Pathfinder Bible Achievement
event planned for April of 2013 focuses on Mark. In recent years Pathfinders have studied and memorized all or parts of -
Acts (2004-2005)
I Chronicles 10 - II Chronicles 9 (2005-2006)
Joshua (2006-2007)
Matthew (2007-2008)
II Chronicles 10-36 (2008-2009)
Jeremiah 1-45 (2009-2010)
I and II Corinthians (2010-2011)
Isaiah 1-55 (2011-2012)
Mark (2012-2013)
For clubs that accept the challenge, the study of Mark can be an exciting adventure as Pathfinders from across North America search for the truths God has hidden for them in His word.
Major Areas
Purpose for this website
The purpose of this website is to help every team prepare for and reach the final event April 21, 2012. By sharing study materials here, all who put in hours creating practice questions, skits, dramatic readings, cartoons, memory songs, and various other helps can encourage not only the Pathfinders on their local team, but Pathfinders in Unions far and wide to hone their ability recall in a few seconds the answers to questions that range from -
telling who Paul found in Corinth after he departed from Athens (Acts 18:1-2)
to naming the children of David that David had in Jerusalem (1 Chronicles 14:6-7)
to telling who the daughter of Caleb was and who she married (Joshua 15:16-17)
to naming the twelve apostles (Matthew 10:2-4)
to listing the twenty rulers of Judah following Solomon (2 Chronicles 10-36)
to the name of the ancestor of the Rechabites who commanded them to drink no wine (Jeremiah 35:6)
to naming the spiritual gift that we should most desire (1 Corinthians 14:1)
While the Pathfinders learn the details and facts of Bible stories, both stories that are familiar to all and those stories that are less well known, they will also be learning how much God has helped and loved His people in days gone by. They will have the opportunity to see and gain a greater understanding of God's love for them each day as they study His word. The Pathfinders will find the study of God's word will reward them and bless them in many ways.
"There is nothing more calculated to strengthen the intellect than the study of the Scriptures. No other book is so potent to elevate the thoughts, to give vigor to the faculties, as the broad ennobling truths of the Bible. If God's Word were studied as it should be, men would have a breadth of mind, a nobility of character, and a stability of purpose rarely seen in these times." -- Steps to Christ, p. 90
This website is a wiki, which means that anyone can contribute easily. Please see the last section of this page for more details.
Pathfinder Bible Achievement, or PBA, was known as Bible Bowl until about 2003. The PBA Manual describes the history of the event and its designation.
Help! I've never used a wiki before!
Relax! <smile> It's pretty easy. I've written a very short orientation. After digesting that, I suggest that you look at the Wikipedia Introduction: it's quite good. For more detailed information, you may wish to consult the User's Guide.
Please create an account for yourself using the Log in / create account link in the top-right corner of any page.
How to Make PDFs
Uploads to this wiki, as to many wikis, are restricted to render-friendly formats, primarily PDF files and graphics. If you would like to contribute files that are in an editable format, such as from a word processor, you'll need to render them to a PDF before the wiki software will let you upload them.
There are several ways to make a PDF from a given document. If you're on a Mac, of course, you're all set. If you're running Windows or Linux, the easiest way may be to use OpenOffice.org, the free and full-featured office suite. Highly recommended. If that doesn't suite you, I suggest PDFCreator, a free program that gives you a virtual printer, which creates PDF files instead of paper print-outs. Pdf995 has also been recommended, and appears to be similar.